How to Make Jun Kombucha Tea
Wondering how jun kombucha is made? Well, it's simple. It's just like making classic kombucha, but instead of black tea and sugar, you will use honey, green tea, and a jun kombucha SCOBY. To get started, you'll need a few basic ingredients and supplies. Let's jump in; we'll show you how to brew jun kombucha from start to finish!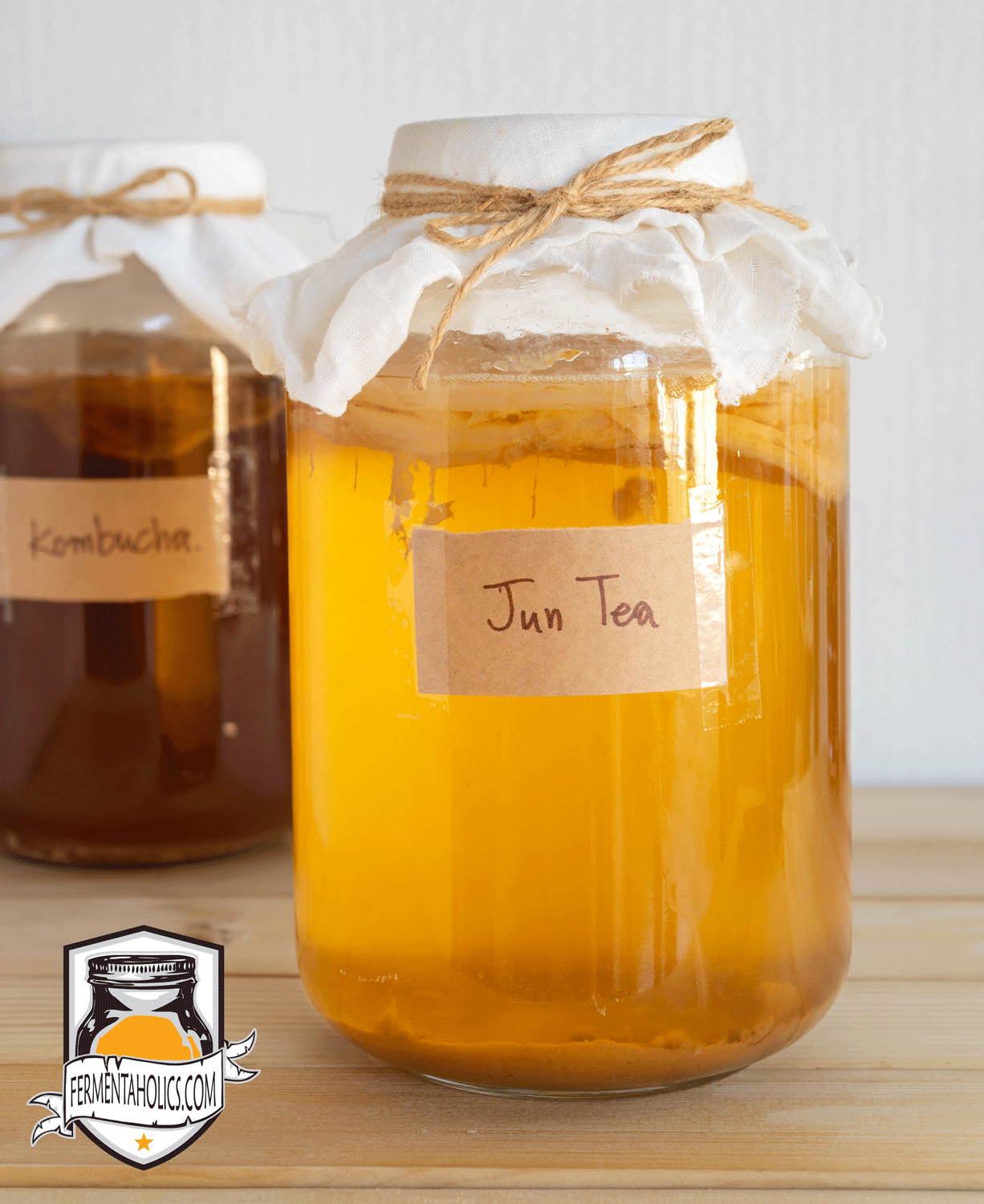 –
Jun Kombucha Tea – "The Champagne of Kombucha"
Have you heard of jun kombucha and want to try making it at home? With just a few ingredients, you can start brewing and have an endless supply of Jun tea flowing from your kitchen. It's easy! Let's learn how…
What Is Jun Kombucha Tea?
Jun kombucha, often referred to as Jun Tea (or simply Jun) is fermented sweet tea. The tea, as opposed to classic kombucha, is sweetened with honey and is typically brewed with green tea (though it can successfully be fermented with a variety of teas). Jun's flavor is slightly sweet, pleasantly tart and contains less of a vinegary bite than traditional kombucha. This light and bright flavor profile lead to it getting nicknamed the "champagne of kombucha."
Click here to learn more about the jun culture and its mysterious history.
Is Brewing Jun Kombucha at Home Difficult?
 No, not at all. If you can brew sweet tea, you can brew Jun Tea. It's as simple as that.


Jun Kombucha Brewing Basics
Brewing jun kombucha is almost always a two-step process. Brewing jun kombucha is only a one-step process for those who prefer an unflavored flat jun kombucha. Otherwise the steps consist of a primary fermentation and secondary fermentation. The primary fermentation is when you make kombucha, and the secondary fermentation is when you take the kombucha and bottle, flavor and carbonate.
Primary Fermentation: The primary fermentation is the first step of the kombucha brewing process. This is where your SCOBY transforms the honey in the sweet tea into the tart and slightly sweet kombucha we love.  At the end of this stage, you will have jun kombucha but it will be unflavored and flat.
Second Fermentation: This is the step where you bottle your jun kombucha. In addition, this is where you carbonate and/or flavor your jun kombucha by the addition of sugar and flavors.  This step is essentially adding a bit of sugar/flavor to each airtight bottle and letting it ferment a little longer, allowing the yeast to naturally carbonate the beverage in an airtight environment. Have questions on the process? See our guide on kombucha secondary fermentation here.
What do you Need to Brew Jun Kombucha?
To start brewing jun kombucha, you'll need a few supplies:
Supplies Needed:
Kombucha Brewing

Jar

:

Glass or lead-free porcelain are popular options for home brewing. Choose anything non-porous and non-reactive. See this post to help determine

what is the best container for brewing kombucha.

Jun Kombucha Culture | SCOBY

:

 The SCOBY

(Symbiotic Culture of Bacteria and Yeast)

is the group of living microbes responsible for transforming sweet tea into kombucha. They reside in previously brewed kombucha as well as in the cellulose film that grows on the surface. If you're looking for a jun SCOBY, you can purchase an Organic jun SCOBY here!

Honey:

Without sugar, there wouldn't be any fermentation taking place. The yeast eats sugars in the honey, breaking it down into carbon dioxide and alcohol, which then gets broken down by the bacteria into healthy organic acids, enzymes, and vitamins. Since you're saving so much money making your jun kombucha, I recommend purchasing organic ingredients. 

Organic Green Tea

:

Green tea provides the Jun SCOBY with nutrients that help facilitate the fermentation. It's traditional to use all green tea when brewing jun kombucha. 

Filtered Water

:

As the most abundant ingredient in kombucha, you want to make sure that the water you use is high quality. Tap water contains chlorine and chloramines that inhibit microbe growth (not good for fermentation). Most cheap, carbon water filters will remove chlorine and chloramines so those will suffice. Questions on water sources? See our post on brewing kombucha with tap water.
6. pH Strips: Testing the pH at the start of your jun kombucha brew is essential. Testing the pH tells us that our jun tea is brewing safely in the proper pH range, with a starting aim at 4.5 or below. Also, we can monitor the brew as it ferments and track its progress as the pH lowers. Finished jun kombucha, depending on preference, will have a pH anywhere from 2.5 – 3.5.
7. Temperature Strip: Attach an adhesive temperature strip to the side of your brewing vessel. These temperature strips allow you to monitor the temperature of your jun kombucha brew, so you know if your batch is being kept at the proper temperature.
Fermentaholics
  How to Make Chamomile Tea? Chamomile Tea: Brewed Tranquility in Every Sip A Beginner's Guide on How to Make Chamomile Tea Are you a tea lover looking to explore [...]
Clarissa Arce
The A to Z of Kombucha Making: A Glossary of Key Terms Master the Lingo and Art of Kombucha Brewing with Our Kombucha Making Glossary of Terms and Definitions. [...]
Fermentaholics
Pu-erh Tea Pu-erh tea is a type of fermented tea that originates from Yunnan Province in China. It is made from the leaves of the Camellia Sinensis plant and is known for [...]