Lemon Lime Mint Kombucha Recipe
Tart, Sweet, Sour, and Cooling, Lemon Lime Mint Kombucha is Sure to Satisfy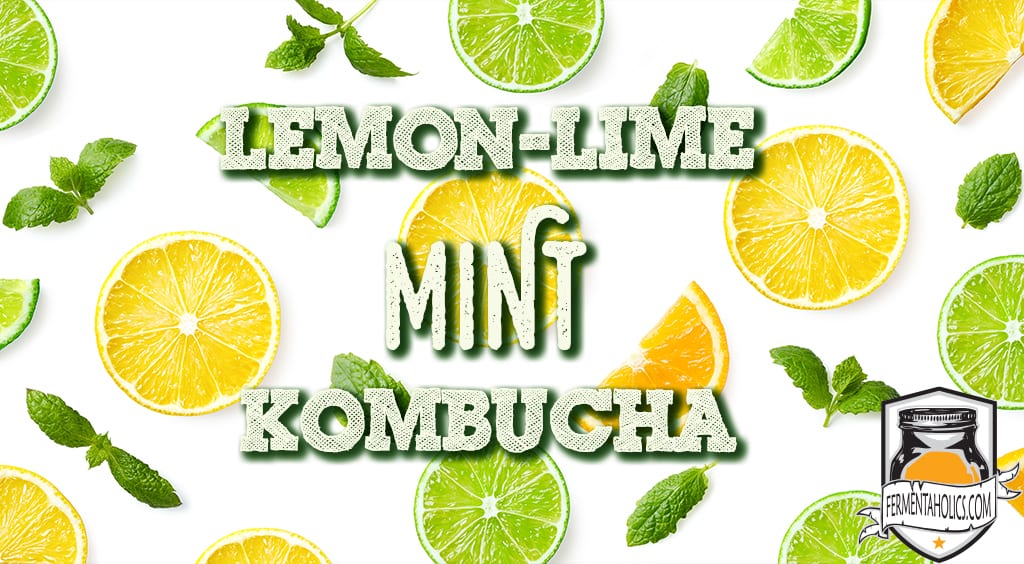 Simplicity wins again. We love when simple components come together to yield bold results. Our minds often persuade us to think we want more: more energy, more food, more money, more things. In reality, more doesn't mean better. More means more things to manage, thoughts to declutter, calories to burn. There's an art in simplification that is refreshingly beautiful. Allow this kombucha to be a practice in enjoying less.
We've found that letting the citrus rinds sit in any liquid for longer than a couple of hours creates a very bitter beverage. Since we're going to let the kombucha go through a secondary fermentation for about 2-10 days, it's best to use citrus juice rather than slices to avoid the bitterness. When serving this drink, add a fresh slice of lemon and lime to each glass and get the full effect.
For the mint, it's pretty straightforward. Break off a sprig, or a few big leaves, and drop it right in the bottles!
For each bottle, squeeze the juice from half a lemon and half a lime, which should yield approximately 1 tbsp of each. Add it right to a clean 16 fl oz bottle.
After you've added the citrus juice and mint, it's time to fill the bottles with kombucha. Fill each bottle up, but leave about 2″ of headspace. Cap the bottles tightly, label your bottles and place them in a warm location for 2-10 days for the secondary fermentation. When you're happy with the flavor, place the bottles in the refrigerator to halt the fermentation.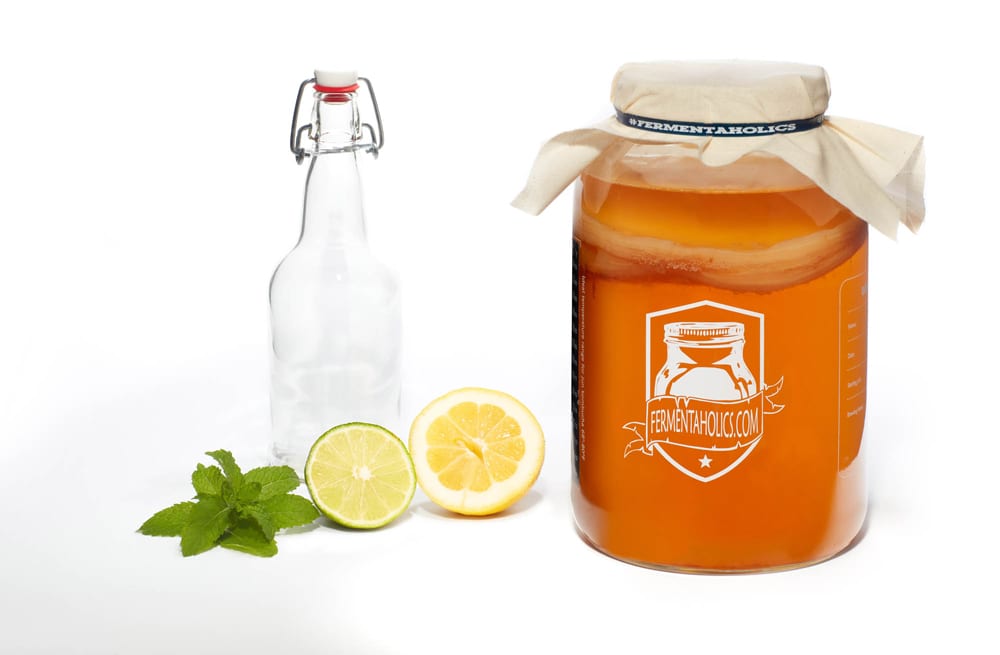 PRIMARY VS SECONDARY FERMENTATION
It's important to note that brewing homemade kombucha is almost always a two-step fermentation process. Brewing kombucha is only a one-step process for those who prefer an unflavored flat kombucha. Otherwise, the steps consist of a primary fermentation and secondary fermentation.
Primary Fermentation

: The primary fermentation is the first step of the kombucha brewing process. This is where your 

SCOBY

 transforms regular sweet tea into the tart and slightly sweet kombucha we love. At the end of this stage, you will have finished kombucha, but it will be flat and unflavored. Have you skipped this step? Then check out our guide on 

making kombucha at home

 or our guide on 

making jun kombucha at home

. Traditional kombucha is going to yield a bolder brew, while jun kombucha is milder and a bit more tart.

Secondary Fermentation

: The secondary fermentation is the step where you bottle, 

carbonate, and flavor

 your kombucha by the addition of sugar and flavors. This step is essentially adding a bit of sugar/flavor to each airtight bottle and letting it ferment a little longer, allowing the yeast to carbonate the beverage in an airtight environment naturally. How exactly does this happen? See our post on 

kombucha secondary fermentation

 here.
Since this recipe is for the secondary fermentation, to make this recipe, you'll need to have kombucha that has finished the primary fermentation and ready to bottle.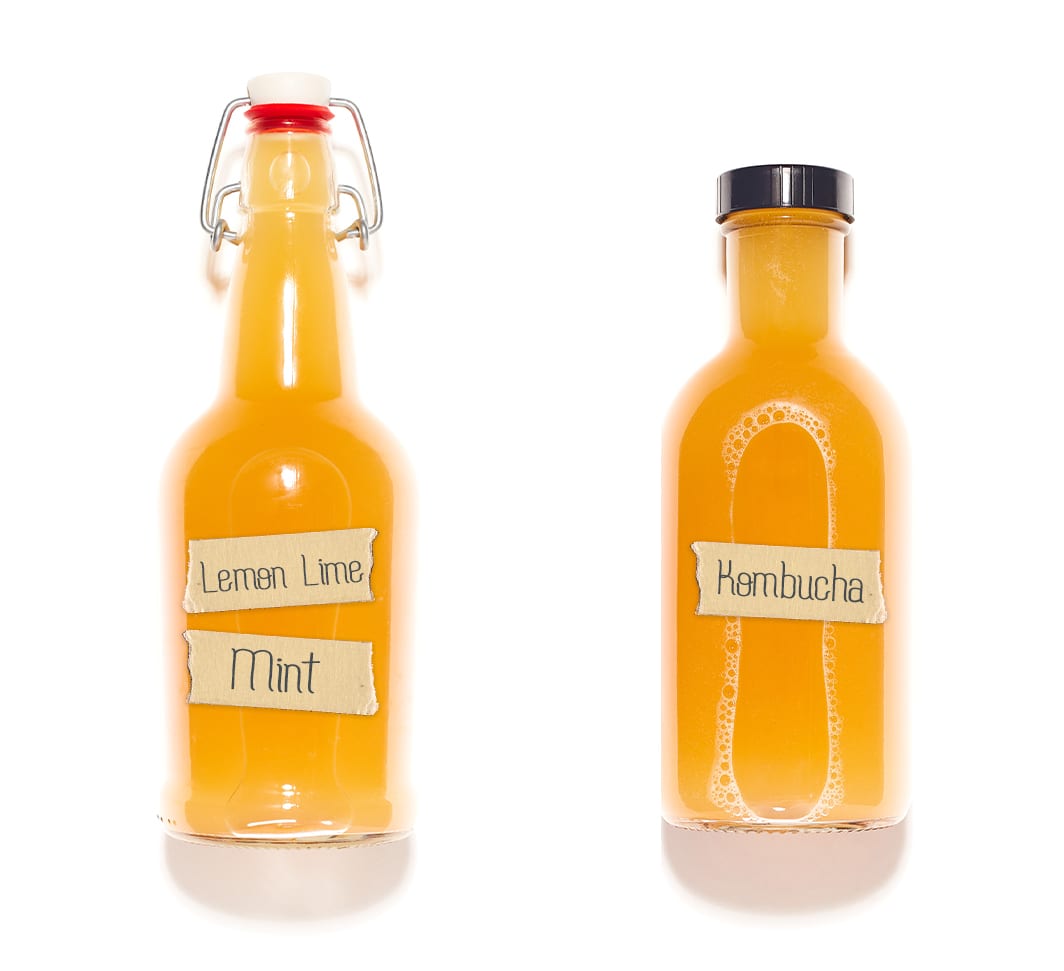 INGREDIENTS
Kombucha:

Use kombucha that has completed primary fermentation and is ready to bottle and flavor.
Fresh Lemons: For each bottle, use ½ lemon for juicing, then some to cut up for garnish (optional). Fresh lemon juice is tart and bright. It's a great addition to any kombucha recipe but also plays well with other citrus fruits.

Fresh Limes: Limes are sweeter than lemons and add depth of flavor. Again, use ½ lime for juicing and then a little to cut up for garnish.

Fresh Mint: Adds a clean, energizing flavor and aroma. Add about 1 sprig or 3-5 large leaves per 16 fl oz bottle.
SECONDARY FERMENTATION PREPARATION
This recipe makes one 16 fluid ounce bottle. For a 1-gallon batch, make 7 16 ounce bottles of kombucha or times the ingredients by 7. Before beginning this recipe, prpare thefollowing:
Reserve 12 – 16 fluid ounces of kombucha and your pellicle from your completed primary fermentation and set aside. It's best to pour from the top of the brew jar as the bottom will have a much higher yeast concentration. 

Use this as the starter for your next gallon batch of kombucha.

With your 

kombucha starter tea and SCOBY

placed aside, there will be enough kombucha left to make seven 16 oz bottles. These bottles are the most popular as they are considered

the best bottles for kombucha secondary fermentation

, but any other airtight bottles made for carbonation will work.