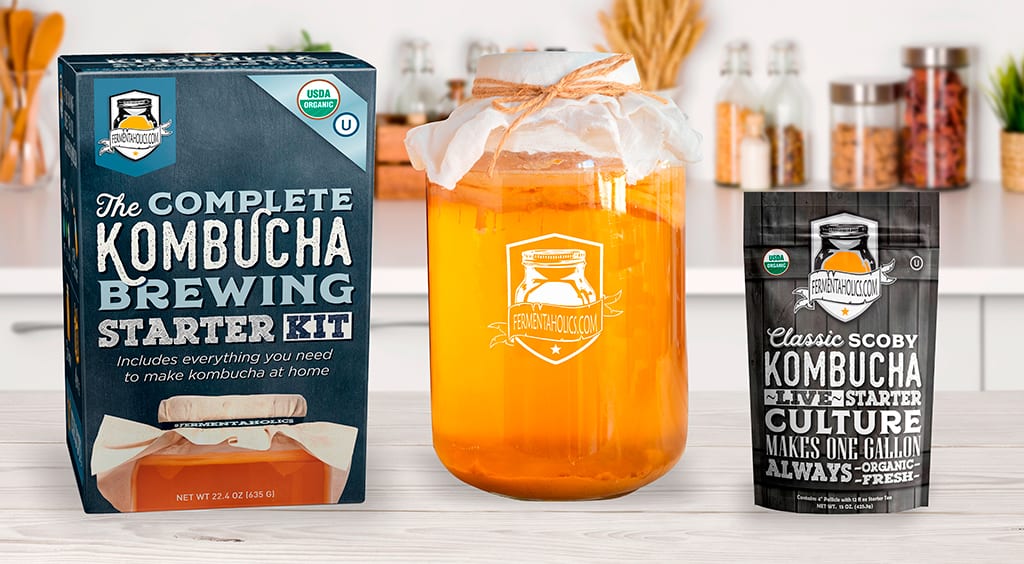 Kombucha is a fizzy fermented tea that's loaded with probiotics & antioxidants. It's been enjoyed for many centuries for its numerous health benefits. Make a gallon of this tea right at home with our easy kombucha making kit.
One Kit, a Lifetime of Kombucha: Our kombucha kit will brew an infinite amount of kombucha. It's true when properly cared for; a single kombucha culture will brew an unlimited number of batches.
Gut Health: kombucha is packed with probiotics and enzymes that help maintain a happy healthy gut. 
Brewing kombucha is simple.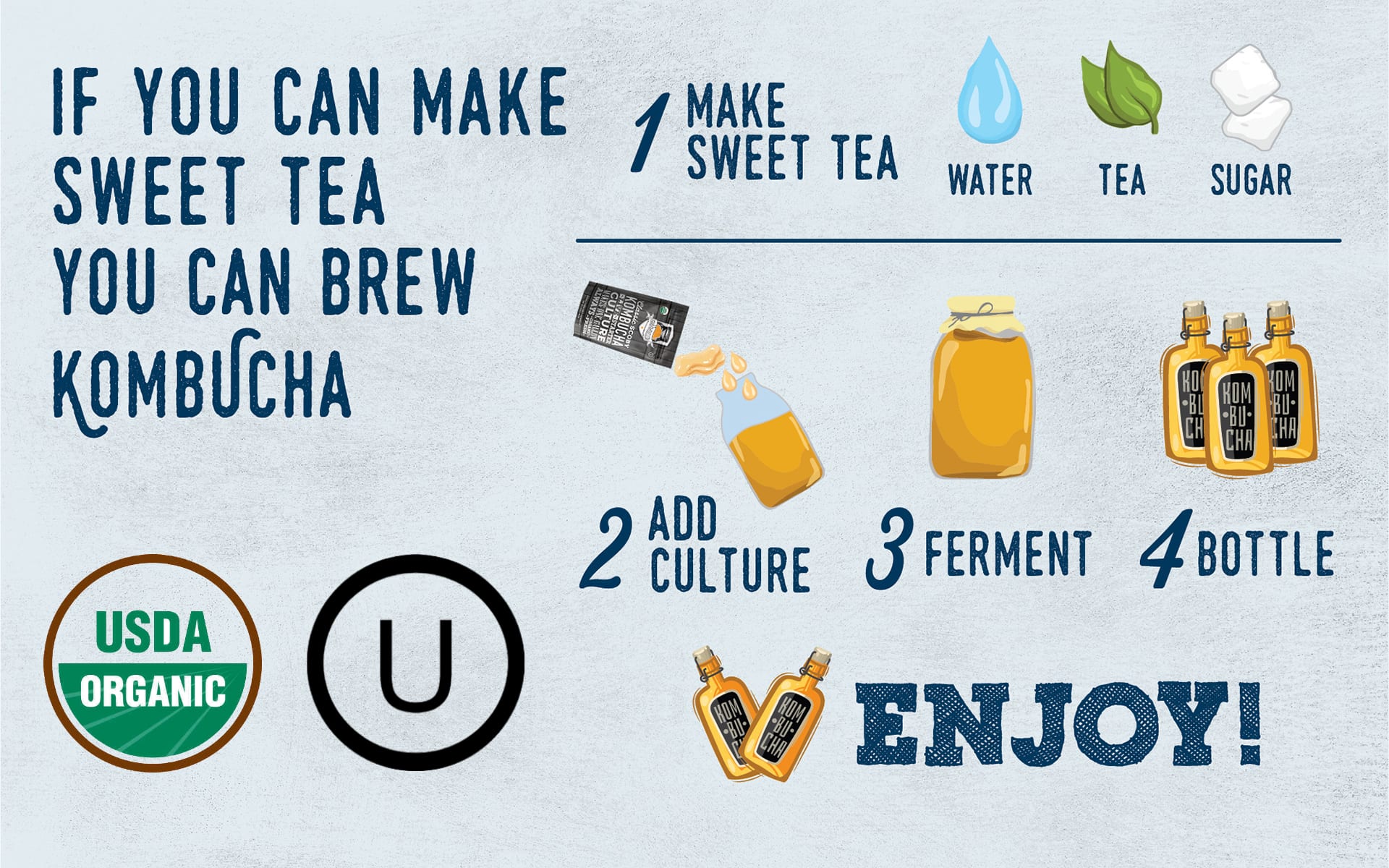 Why brew your own kombucha?
SAVE MONEY – It's much more affordable than buying it at the store. A 12 ounce bottle of kombucha costs about $4 whereas a an entire gallon of home brewed kombucha (flavored and all!) cost less than half that.
KNOW WHAT'S IN YOUR BREW – Since you're saving money, you can afford to buy all high quality, organic ingredients to go in your kombucha!
GET CREATIVE – Experiment with different flavors. Choose your favorite tea blends, sugar, fruits, herbs, and spices to make a kombucha that is as unique as you.
HAVE FUN – Share with friends and make memories. Making kombucha is just plain fun!! Invite your friends over to brew with you and share tasty suds and good times.
REDUCE YOUR FOOTPRINT – Brewing your own kombucha reduces the need for one time use bottles and cans.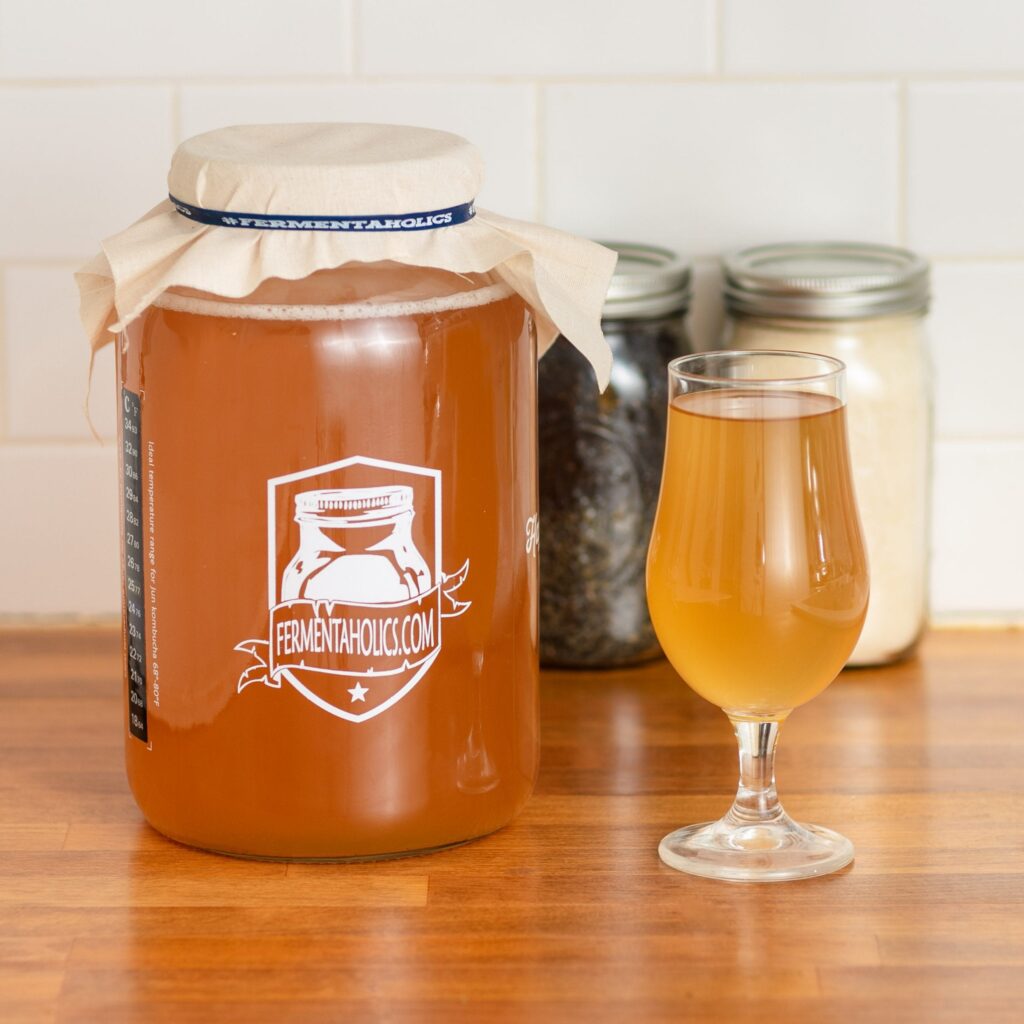 What does the Complete Kombucha Brewing Kit include?
Kit Includes:
Organic Cane Sugar

Detailed Instructions and Flavoring Guide
Let's go into more detail…
Organic Kombucha Starter Culture – Pellicle with 1.5 cups of mature starter tea.
GUARANTEED TO MAKE KOMBUCHA– We believe in our cultures! Our quality standards and long maturation process ensure that we are passing along a culture that will brew for a lifetime. If your first brew doesn't meet your expectations, we will work with you until you are up and brewing on your own. ORGANIC – Our Kombucha SCOBY is the only USDA Certified and OU Kosher SCOBY on the market. We are proud to use the highest quality ingredients, working with companies who align with organic and sustainable manufacturing practices. FULLY LICENSED FACILITY – Our cultures are propagated in our quality controlled lab, overseen by the FDA and the Florida Department of Agriculture.
Organic Cane Sugar
BEST SCOBY FUEL -Cane sugar provides efficient fuel for the SCOBY to use, transforming it into beneficial acids, vitamins, and enzymes. PRE-MEASURED FOR A ONE GALLON BATCH – The kit comes with 1 cup of sugar measured out. One less step to think about while you're taking in your first brewing experience. RESPONSIBLY SOURCED – We source only Organic and Kosher sugar to ensure that quality standards have been upheld from the time the sugarcane was harvested to the time it lands in your kombucha.
Organic Kombucha Tea Blend
BALANCING AND NUTRITIOUS BLEND – Traditional black tea blended with refreshing green tea packs a nutritional punch for your SCOBY and results in a mild, flavorful brew for you! PRE-MEASURED FOR A ONE GALLON BATCH – The kit comes with 2 tablespoons of tea measured out. One less step to think about while you're taking in your first brewing experience. RESPONSIBLY SOURCED – We source only Organic and Kosher teas to ensure that quality standards have been upheld from the time tea leaves ware harvested to the time it steeps for your kombucha.
Printed Gallon Glass Jar With Brew Notes
MASTER YOUR BREWS – With brew notes printed on the glass, it's easy to jot down anything special about your brew. What tea did you use? What was the temperature? pH? Did you try something new? SEE WHAT'S HAPPENING – Glass is the perfect brewing material for kombucha. It's easy to clean and you can see exactly what's going on in your brew! During the fermentation, the color will change, yeast will clump together, the pellicle will grow on the surface–it's so fun to watch it progress. REMAIN IN THE ZONE – Optimal temperatures for kombucha brewing are printed right on the jar as a reminder that temperature is super important. MADE IN THE USA – Manufactured and printed right here in the USA. It's important for us to support US manufacturers, reducing our footprint and ensuring quality manufacturing standards.
Unbleached Muslin Cloth Cover and Rubber Band
LETS YOUR BOOCH BREATHE – The primary fermentation requires oxygen for the production of beneficial organic acids. Using a cloth is a reusable way to allow air to flow in and out the jar. KEEPS BUGS AND DUST OUT – Bugs love sugar and vinegar. This cover is woven tight enough to keep curious critters out, but still allow for airflow. Don't forget to use the rubber band for extra security. REUSABLE AND WASHABLE – Durable unbleached muslin is sure to last you a long, long time. Hand wash with warm water and vinegar. Allow to air dry completely before using again.
Acid Range pH Strips
SAFETY FIRST – Is your brew starting below a pH of 4.5? If using our pre-measured culture, it will be brought below this point, but this is important for your future batches. Providing an acidic environment ensures that your SCOBY has the advantage and wards off the unwanted bacteria and yeast. MASTER THE TIMING – Testing the pH throughout the brew and tasting along side it will give you an idea of how you like your kombucha. Take notes and hone in on your magic number! EASY TO READ CHART – No guessing games, here. The color chart is easy to read and goes in increments of 0.5 to simplify the process.
Adhesive Temperature Strip
STICKS ON THE GLASS – Thermometer that sticks right on the glass, giving you a constant reading without having to calibrate or find a thermometer. STAY IN THE RANGE – Temperature is very important for the health of your brew. Remaining in the proper temperature zone ensures that the microbes are comfortable and happy. The zone is printed on the glass so you won't forget. PITCH PERFECT – Using your glass vessels with the temperature strip allows you to know the temperature of your tea before you "pitch" (or add) the SCOBY. Adding your culture when the tea in too hot can damage it and result in a less than perfect brew.
Detailed Instructions and Flavoring Guide
DON'T GO IT ALONE – We wouldn't leave you to fend for yourself. Our experienced brewers collaborated and laid out step by step what you need to know, and how to brew perfectly your first time. STILL DON'T GET IT? – We're just a phone call or email away and are happy to assist with any questions you might have. We love to talk about kombucha and pass on any tips and tricks we've got. F.I.Y- FLAVOR IT YOURSELF – We have included 4 of our favorite recipes to give you a little inspiration but don't stop there! The flavor world is yours for the taking, so have some fun and get creative!
Similar Post Just For You
Other Ferments