Bloody Mary Kombucha Recipe
Whats your favorite way to garnish a bloody mary?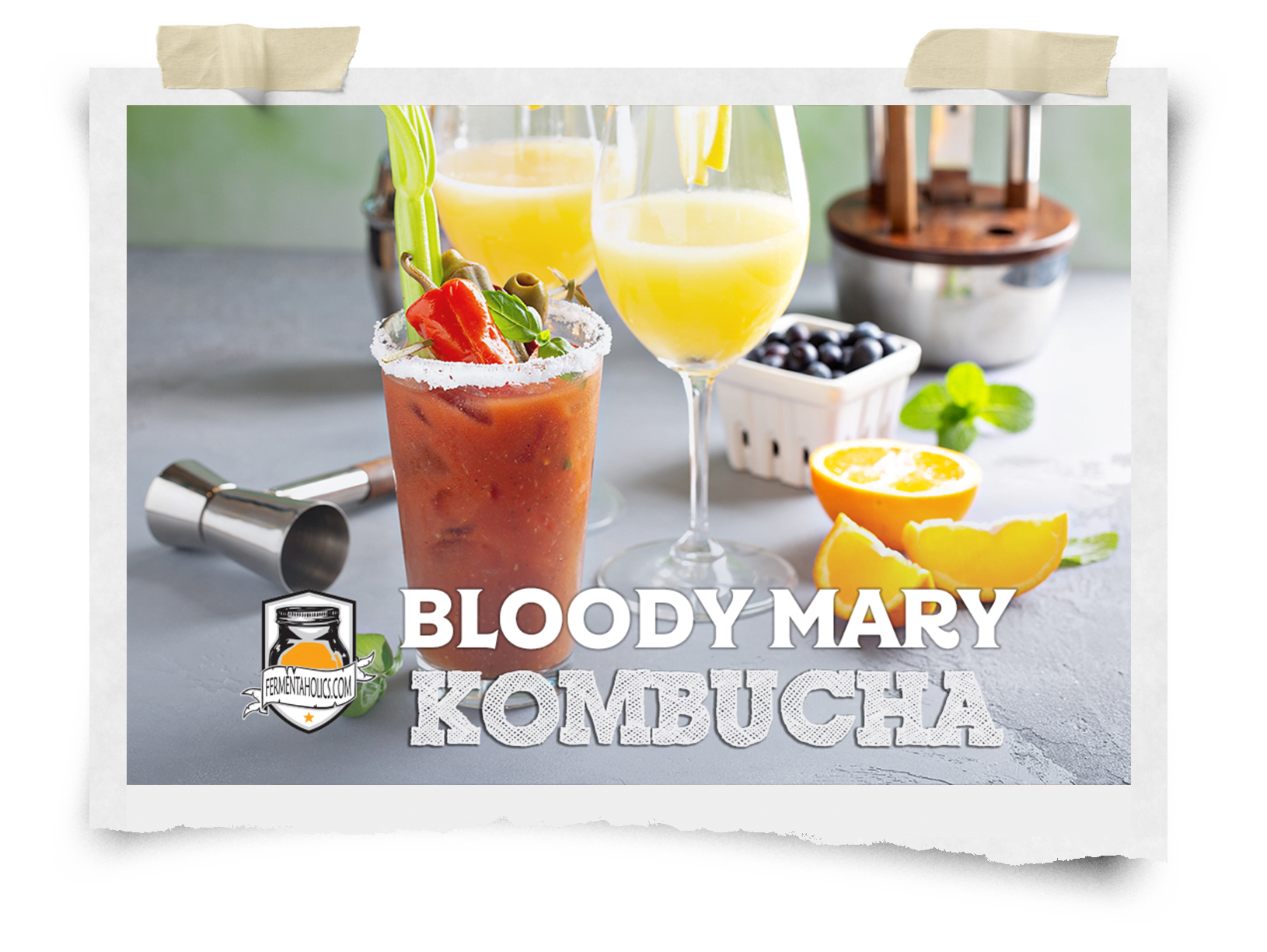 Salty, rich, tangy, spicy, and indulgent–all elements of the perfect bloody mary. Kombucha and tomatoes might sound like an odd couple, but, oh man, are they meant to be! If you think of kombucha as vinegar, it makes a little bit more sense, like adding a squeeze of lime if it tastes flat. Bloody Marys are notorious hangover cures–providing a comforting dose of vitamins and salt to help your body recover. Adding kombucha's B-vitamins to the mix brings it up to the next level.
PRIMARY VS SECONDARY FERMENTATION
It's important to note that making homemade kombucha is almost always a two-step fermentation process. Brewing kombucha is only a one-step process for those who prefer an unflavored flat kombucha. Otherwise, the steps consist of a primary fermentation and secondary fermentation.
Primary Fermentation

: Primary fermentation is the first step of the kombucha brewing process. This is where your

SCOBY

 transforms regular sweet tea into the tart and slightly sweet kombucha we love. At the end of this stage, you will have finished kombucha, but it will be flat and unflavored. Have you skipped this step? Then check out our guide on 

how to make kombucha

at home, and for jun kombucha, see our post on

how to make jun kombucha tea

at home

. Traditional kombucha is going to yield a bolder brew, while jun kombucha is milder and can be a bit tarter.

Secondary Fermentation

: Secondary fermentation is the step where you bottle,

carbonate, and flavor

your kombucha with the addition of sugar and flavors. In this step, the finished kombucha from the primary is mixed with sugar, fruits, or other flavors before bottling it with specialized lids that can hold pressure, like flip-top bottles. The bottled kombucha is then left at room temperature for natural fermentation, where yeast carbonates the kombucha within the sealed bottle. The ideal temperature range for this process is between 75-85°F. The amount of time needed to carbonate within the bottle is highly tied to temperature, which can take anywhere from 2-10 days,
Since this recipe is for the secondary fermentation, to make this recipe, you'll need to have kombucha that has finished the primary fermentation and is ready to bottle.


Ingredients
Tomato Juice: You can use plain or buy pre-seasoned mixes.
Kimchi Brine or Pickle Juice: Provides an umami punch and depth of flavor.
Worcestershire Sauce: Provides richness and balance.
1/2 tsp Maple Syrup, honey, or another sweetener of choice: Just a dash to balance the flavor, not enough to make it sweet.
Freshly Cracked Black Pepper: The spiciness of the black pepper balances the richness and sweetness.
Your favorite Bloody Mary Add-ins! Prepared horseradish, hot sauce, cayenne pepper, lime juice, dried or fresh herbs, etc.