Apple Spice Kombucha Recipe
There's no place like home, and the flavors of this Apple Spice Kombucha will make you feel like you're there.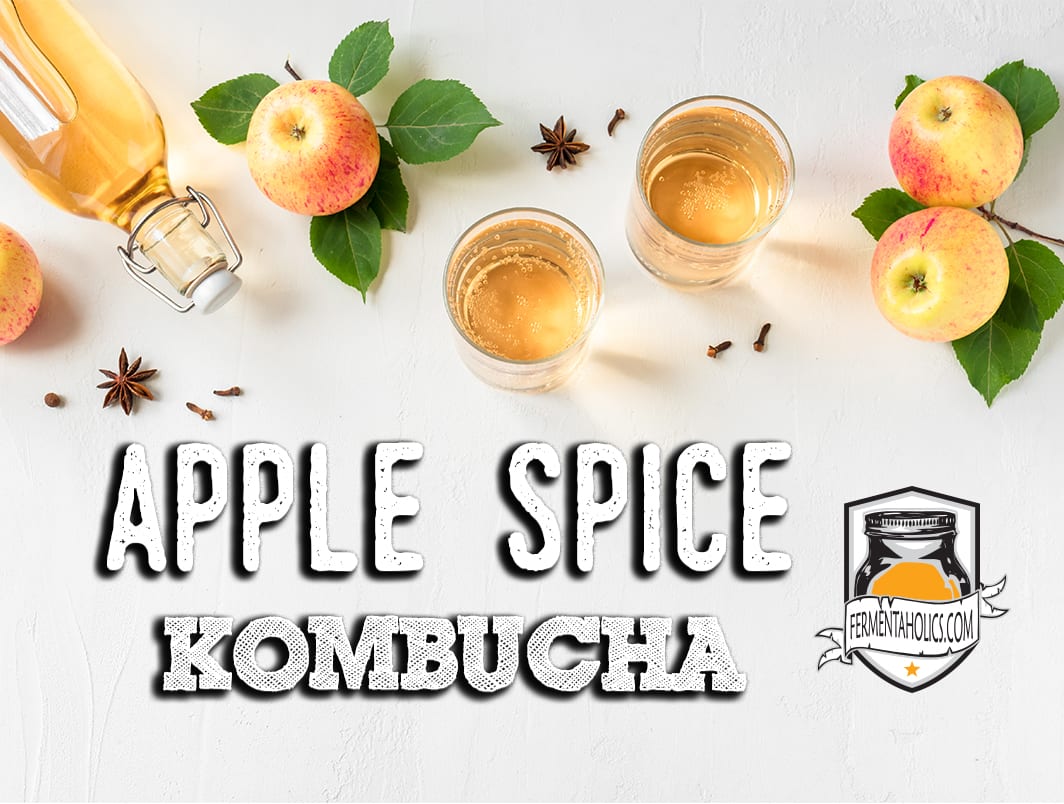 Fall breeze arrives and with just one gust seems to sweep everyone off their feet. It's not just the weather that creates this feeling but the fragrant, delicious comfort foods. Spiced apple cider is one of the most special and reminiscent for me. I remember, as a kid, hanging out with my dad, drinking hot apple cider through cinnamon sticks straws. This kombucha recipe does such a great job re-creating that warm, fuzzy feeling that apple cider brings and is a fall must-have!

PRIMARY VS SECONDARY FERMENTATION
It's important to note that brewing homemade kombucha is almost always a two-step fermentation process. Brewing kombucha is only a one-step process for those who prefer an unflavored flat kombucha. Otherwise, the steps consist of a primary fermentation and secondary fermentation.
Primary Fermentation: The primary fermentation is the first step of the kombucha brewing process. This is where your SCOBY transforms regular sweet tea into the tart and slightly sweet kombucha we love. At the end of this stage, you will have finished kombucha, but it will be flat and unflavored. Have you skipped this step? Then check out our guide on making kombucha at home or our guide on making jun kombucha at home. Traditional kombucha is going to yield a bolder brew, while jun kombucha is milder and a bit more tart.
Secondary Fermentation: The secondary fermentation is the step where you bottle, carbonate, and flavor your kombucha by the addition of sugar and flavors. This step is essentially adding a bit of sugar/flavor to each airtight bottle and letting it ferment a little longer, allowing the yeast to carbonate the beverage in an airtight environment naturally. How exactly does this happen? See our post on kombucha secondary fermentation here.
Since this recipe is for the secondary fermentation, to make this recipe, you'll need to have kombucha that has finished the primary fermentation and ready to bottle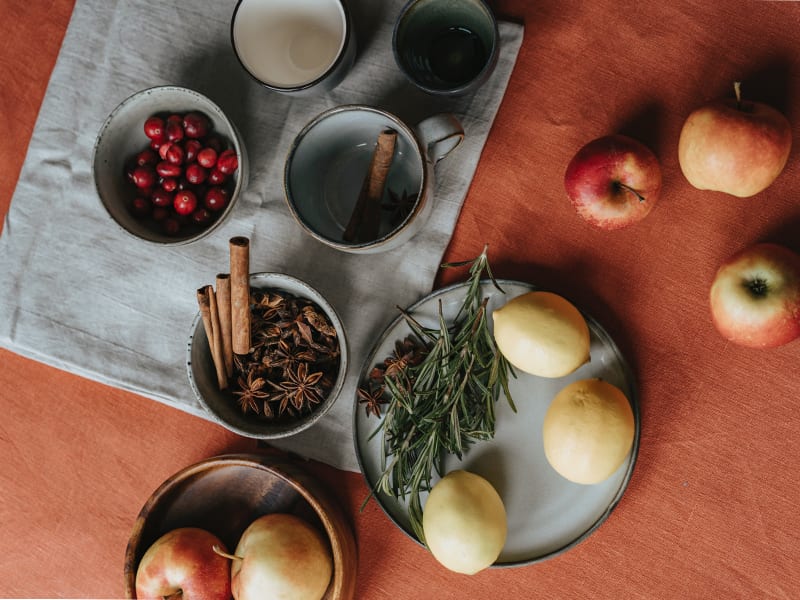 INGREDIENTS
Unfiltered Apple Juice: Feeling nostalgic? Because if there's an ingredient that puts us in the feels, it's classic apple juice like this. Find your bottle at your local grocer.
Cinnamon Sticks: The original flavor of Fall (sorry, Pumpkin Spice), a few of these are used to give us the cinnamon flavor in our apple cider and kombucha that we love.
Candied Ginger: These sweet and spicy morsels not only infuse a great flavor, but the sugar also helps build up carbonation during secondary fermentation. Not sure where to find candied ginger? You can find it here – candy ginger.
Whole Cloves: A surprisingly inexpensive ingredient, whole cloves bring the apple cider ingredients together, and these can be found typically at your local grocer.
Kombucha From A Finished Primary Fermentation: As we begin our secondary fermentation process, the most vital ingredient of all is your fresh 'booch.
SECONDARY FERMENTATION PREPARATION
This recipe makes 7 16 ounce bottles of kombucha. Before beginning this recipe, prepare the following:
Reserve 12 – 16 fluid ounces of kombucha and your pellicle from your completed primary fermentation and set aside. It's best to pour from the top of the brew jar as the bottom will have a much higher yeast concentration. 

Use this as the starter for your next gallon batch of kombucha.

With your 

kombucha starter tea and SCOBY

placed aside, there will be enough kombucha left to make seven 16 oz bottles. These bottles are the most popular as they are considered

the best bottles for kombucha secondary fermentation

, but any other airtight bottles made for carbonation will work.