Scoby Fruit Leather Recipe
Extra scoby makes a great snack.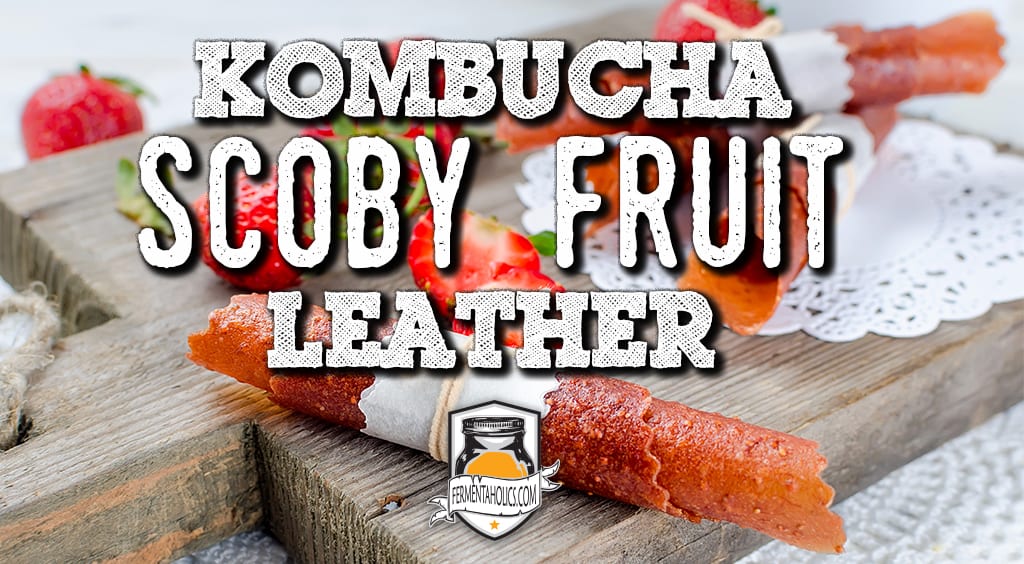 So, you've successfully brewed several batches of kombucha. Great! Now a question inevitably arises: What to do with all those extra pellicle growths?
Each time the surface of your kombucha brew is disturbed, such as every time you bottle your kombucha and re-brew, a new pellicle growth will begin to form. Sometimes it will form together with the old growths and become one giant thick mat. Other times, you can get thin little pancake-like layers. However they develop, you will end up with a LOT of them after you are brewing for a while.
For the purpose of this article, we'll use the term SCOBY interchangeably with the term pellicle. If you need clarification, here you will find what's a pellicle. 
What to do with extra SCOBYs?
We've got an in-depth article on how to store extra scobys if you want to preserve them. If you wish to use them in recipes, beauty products, make dog treats, gift for friends, make jewelry or art, you will have them safely stored and ready for use. Now to decide what we're going to do with them!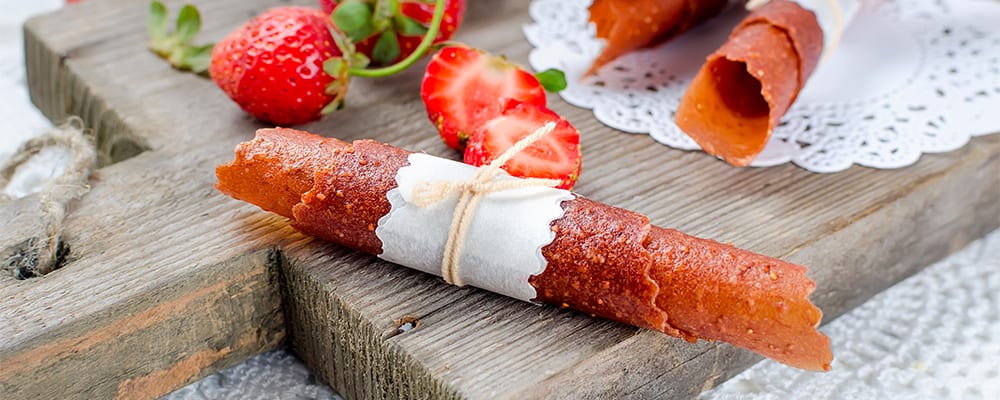 SCOBY Fruit Leathers
I'll admit, I was a bit skeptical about eating a SCOBY at first. Mainly because I have tried eating a SCOBY before, plain, and it was…interesting. However, I enjoy experimenting in the kitchen, dehydrating things, and I have no shortage of extra pellicles, so I figured, what the heck? I was pleasantly surprised with the outcome and excited to try different flavor combinations.
Are there benefits to eating SCOBYs?
Pellicles are made up of bacterial cellulose. Nerdy side note: Cellulose is the most abundant organic compound on earth, and there are only two sources: plants and bacteria. Bacterial cellulose structurally differs a bit from plant cellulose but is still a great source of dietary fiber. Dietary fiber is what feeds the microbes in your gut. That, in combination with probiotics, is a perfect equation for a healthy gut! If you dehydrate your pellicles on a low enough heat (under 110F), you can get the benefits of both the probiotics from the kombucha and the dietary fiber in the pellicle.

INGREDIENTS
Water Kefir: You need water kefir that has completed primary fermentation and is ready to bottle and flavor.
Strawberries: You can use fresh or frozen Strawberries. You'll need 2-3 strawberries, quartered or pureed, per 16 fl oz bottle of water kefir.
Fresh Lemons: For each bottle, use 2 tbsp of lemon juice, then some to cut up for garnish (optional). Fresh lemon juice is tart and bright. It's a great addition to any water kefir recipe but also plays well with other citrus fruits.
Sweetener: Brewer's Choice! Use 1 tsp of the sweetener of your choice. We always recommend organic cane sugar for the purest and most refreshing flavors.
SECONDARY FERMENTATION PREPARATION
This recipe makes one 16 fluid ounce bottle. Before beginning this recipe, you will want to:
Reserve your grains from your completed primary fermentation and set them aside.

You will use these grains as your starter for your next batch of water kefir.

With your water kefir grains

placed aside, you will have all the finished water kefir separated and ready to bottle. These bottles are the most popular as they are considered the

best bottles for water kefir

secondary fermentation

, but any other airtight bottles made for carbonation will work.